Times have surely changed, over 50% of new hopper trailers ordered are ordered in with an electric tarp. And if you already have a hopper with a manual tarp we can surely change them over to electric for you with ease. Your electric tarp of choice should be a Thunderstone, and here is why:
The Remote
The Thunderstone runs a multi-function remote with 5 different trailer accessories with a max range of 100, easily folded away and stored. The competition can only operate 3 functions and have limited range, they are large and oversized and some of the remotes have to be charged daily.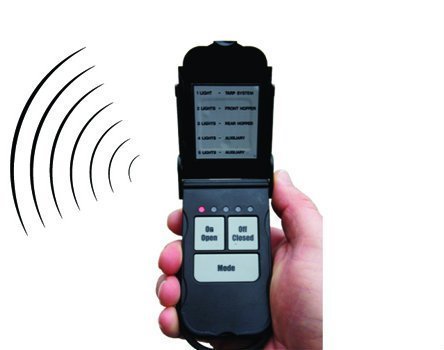 Control Box
Thunderstone's control box is low profile, easy to use, epoxy potted for completely watertight keypad, open and close buttons are backlit for night time use. The competition has the potential to be infiltrated with water due to exposure from the elements and road debris from the tractors drive tires. open and close buttons are not backlit, and some of the competitors use twist compression seals to seal the box.
Motor
The Thunderstone Motor is proven to have 4 times the life of the competitors, utilitzes gear worm drive for precision stopping, harnesses the optimal amount of torque eliminating excessive wear, USA made, and an industry leading 5 year warranty.
At the end of the day no electric tarp system is perfect but they sure do make life easier and Thunderstone really takes pride in having the longest lasting system on the markets!